These days, the grooming options for men are endless and getting more elaborate as droves of men flock to trendy, modern-day barber shops to touch up their beards, mustaches and locks alike. Men's grooming has become a huge business, with no signs of slowing down which is why we interviewed hair stylist and grooming expert Matthew Collins, Co-owner of Brennen Demelo Studios, and official L'Oreal Professionnel Ambassador about his take on the beard trend, the best grooming products and how to use them, and of course, the magic of a manly manicure. Read on.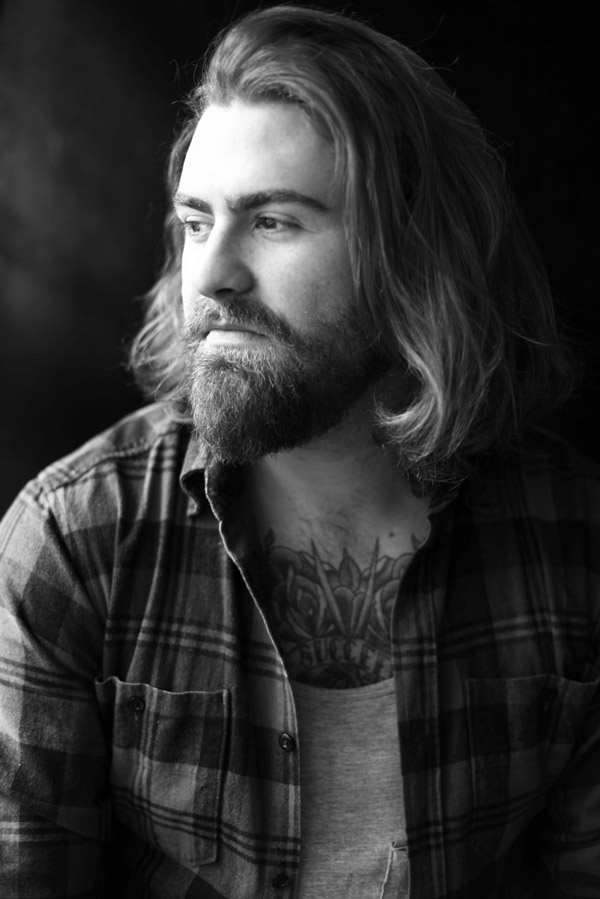 Matthew Collins, Co-owner Brennen Demelo Studios, L'Oreal Professionnel Ambassador, Represented by P1m management
You are known for your great grooming and personal style. How would would you describe your look? Ideally, I like to be effortless. But I definitely want to be effortless and clean. Six years ago I just decided to let my hair and beard grow and see what happened. And this is what I got. I for sure have a few nicknames that have developed lol. Like "the hairy god father" and "sexy Jesus" and been described as a "lumber sexual". I don't see myself as these. Just been called them, haha.
What is the most critical aspect of grooming? With a large beard and long hair, and wanting to look clean, everything else needs to be sharp. You need to be dressed well and this does not mean a suit. Just put together and fashionable. It makes everything else neck up look more on point. Also to me, if you have a beard, you need to make sure that the area around your ears/ jaw line and lip, the beard is more tidy. They rest you can let go wild. Most beards that are long get very dry so it's important to use an exfoliating shampoo and scrub it very well. I use L'Oreal Professionnel "Intense Clear".  I also brush it very well before I shower.
How much time should a guy allot for daily grooming? I spend no more than 2-5 min a day on my grooming. If you fuss too much, you will ruin it will look too forced.
If a guy wants to invest in one grooming product or tool, which should it be? Two things: First you need a good comb/brush. I prefer a comb that I got from a company called "Stick a comb in it". It fits in the hand well and has flat teeth, so I can get deep in my beard and scrub my skin. Second you want a good clipper/beard edger, I like the "peanut" best, you can find at any beauty supplier. It's super powerful/small and only around $50.
What products do you use most is your shop and why? I have personally found most beard oils to be too fragrant and I am not good with plant based smells. I use L'Oreal Professionnel "intense clear" shampoo to clean and exfoliate. Then use the same mask I use for my hair "mythic oil mask" by L'Oreal Professionnel and rub it deep in my beard. It helps to soften and moisturize my skin under my beard.
Is there one grooming product you carry with you wherever you go? The best paddle brush is a large wooden one made by Aveda. It lasts forever and I use it on my hair and beard. And if I am packing light, my "stick a comb in it" beard comb.
Is the beard a trend or here to stay? Why do you think this look became so wildly popular? It's definitely here to stay for the ones who are committed. It's not just a look for guys. Since I could grow facial hair I did. I have a soft chin that runs in the family and the right shaped beard shapes the face into anyway that you want. Businesses and most companies now accept a much more casual style in the work place that allows this. And I don't see this changing. They, for thousands of years, have been a symbol of manliness but were lost for a brief period. But we definitely have years to go where they are accepted. Mine may vary in length but this beard is with me to the grave. And also many clients/friends have noticed instant doubled success with dating and ladies. So this won't make those guys shave for a while.
How important are manicures and pedicures for men?  So important. My father, as far as I can remember, always carried lip chap and nail clippers in his pocket. I cut my own nails every 4 days to be perfect and clean looking and try and get a pedicure every month. I am always shocked when I see no men getting these. They are one of life's greatest things. And always go for an extra 10 min massage. Especially if your with your girl because she needs that time to have her nails dry
Who are some of the most well-groomed celebrities in the industry in your eyes? Brad Pitt, David Beckham and Tom Hardy are always on point. But I do always love Johnny Depp's super grunge grooming.
What is the next big thing in men's grooming?  I think the beard still has a while to go. For the newbies, it will go much longer before it gets shorter. And for the committed, it will probably go shorter to have something new but grow right back. Personally there are only a few legit options for a man's face: Clean shaven, slight scruff, or a full beard. Or a legit moustache. Anything else often isn't done well. No "chin straps".
Watch for the next in our Advice series from industry experts coming soon.