LE CHÂTEAU HONOURS THE SEASON OF SHARING
LE CHÂTEAU of Montreal honoured the spirit of giving this past holiday season with a pledge to help local charities. From December 26th to 31st, for every dollar sold in any LE CHÂTEAU Outlet store across Montreal, as well as from the LE CHÂTEAU Outlet website, the Company pledged to donate an equal amount of clothing, shoes and accessories to charitable organizations in Canada.
As a result of this initiative, LE CHÂTEAU of Montreal is proud to be donating $280,000 worth of much-needed goods to the West Island Women's Shelter, Le Chaînon, La Maison Bleue, as well as those in need at AJOI, Dans la Rue, Sun Youth and The Old Brewery Mission, the Service d'intégration à la collectivité (SIC) and the United Way. These organizations are well known for the range of programs they offer to get people on the path to security and independence. For many, these organizations are a safe haven and the support offered by them is essential to their well-being.
Thank you to all LE CHÂTEAU Outlet store shoppers and staff who helped make a difference this holiday season, aiding in this donation to Canadians who really need a helping hand.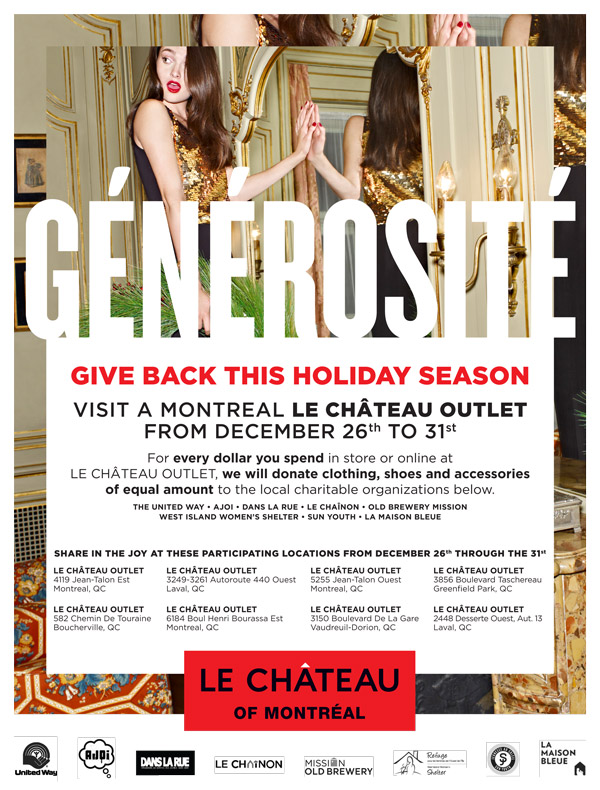 LOOK OUT FOR UPDATES ON HOW THESE GOODS ARE HELPING THESE CHARITIES.