DISCOVERED: TOP 7 BRUNCH SPOTS IN MONTREAL
If going to brunch is top on your weekend "to-do" list, then dive right into our curated list of  the Top 7 brunch spots in Montreal: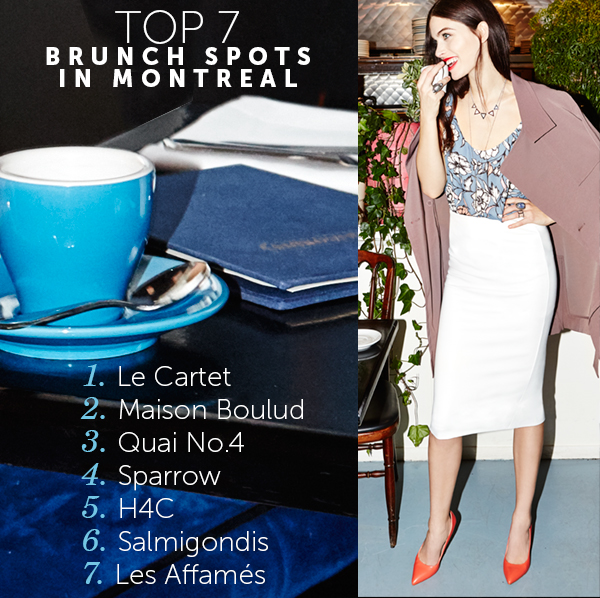 What's not to love about complimentary coffee, orange juice and sweet bread! Cartet, with its unassuming exterior, is nestled in beautiful old Montreal. An ideal spot if you plan to walk around the neighbourhood afterwards.
This elegant restaurant is located in the Ritz Carlton. The French cuisine dishes are always impeccable at Maison Boulud. The perfect destination if you and your girlfriends want to dress up and splurge on yourselves.
The flavourful dishes and courteous staff is a winning combination. Then factor in that they serve the best white wine sangria and Quai No. 4 has been bumped to the top of your brunch destination list!
Sparrow offers a simple and straightforward menu with high quality yet well balanced dishes. They are located in the trendy Mile End neighbourhood right on Boulevard St. Laurent.
Housed in a restored vintage building, H4C provides a chic destination for a Galentine's Day brunch. With a selection of creative and daring dishes, this spot will surely impress your guests.
Salmigondis is known for inventive food and creative cocktails. The décor is fresh and modern, a perfect backdrop for your snapshots. It was our choice for our Night Out series.
The menu at Les Affamés changes up occasionally, which keeps the fare selection fresh and exciting! This restaurant offers high quality and original recipes all in a quaint interior. Make this place your next brunch destination!