CELEBRATE: NATIONAL FRIENDSHIP DAY WITH TORONTO BESTIES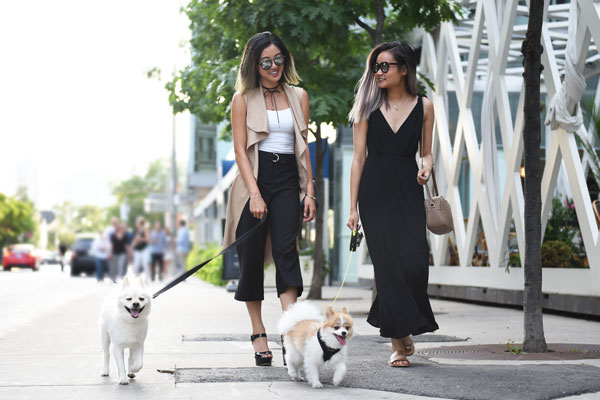 August 7th is National Friendship Day! This great excuse to celebrate was originally founded by Hallmark in 1919 as a day for people to honour their friendships by sending each other cards. Thankfully, these days sending a card isn't your only option. You easily get in contact with your friends for a chat, either online, on your phone, or even better, in person, just like these Toronto bloggers and influencers Mel Hwang @melhwang & Victoria Hui @thelustlistt love to do. Their friendship is as lovely as they get. Read on:
LC: How did you meet?
V: We actually met through work! We worked together for about a year at a boutique media agency and our work relationship turned into an even greater friendship.
LC: How would you describe each other's style in 4 words?
V: 4 words are tough, but I would describe Mel as – Monochromatic, edgy, sophisticated, and clean.
M:  Vic's style is neutral, romantic, on-trend, and effortless.
LC: Provide each other with a fashion inspired nickname.
V: Hmmmm, that's hard. We definitely have some nicknames for each other but they for sure aren't fashion inspired. I'd have to say Cara (like Cara Delevingne) purely because Mel also used to model like Cara, but has moved onto bigger and better things in the creative industry and is making a name for herself.
M: Vic and I were both huge fans of Gossip Girl growing up. And although her style isn't exactly like Serena Van Der Woodsen (no plaid skirts), she has this effortless and carefree vibe to her style that reminds me of S's. She's the S to my B, or the V to my M, I guess.
LC: Name three things you have in common with one another.
Our passion for fashion (haha!), our lack of functionality without coffee, and our love of each other's dogs.
LC: What do you admire about each other's style?
V: I love that Mel isn't bound to what's considered fashionable at the now, she plays with trends but always stays true to her own personal style. Her outfits are very much a reincarnation as to how she envisions a trend, not just her wearing a trend.
M: Vic's style is as sweet and effortless as her personality. That's what I love the most I think. Trends aside (although she does slay at rocking trends), I love how her character shines through. She's sweet, genuine, and kind – some of the things I love most about her – and it translates into her style too.
LC: What do you like to do when you hang out together?
We love sitting around waiting for our boyfriends to finish playing FIFA. Just kidding. Our boyfriends are friends though, so the four of us love hanging out together. They also make great Instagram hubbies. Alongside shooting and creating blog content together, we love to stop and chat over latte art and explore new places in and out of the city.
LC: Name one advantage of having a friend who also blogs about fashion.
Angles and photography! We've grown our brands and blogs together, so we know each other's style, content, and shooting preferences like the back of each other's hands. It's also amazing to have someone else who understands the oftentimes-weird life of an online personality.
LC: If you had to choose two staple fashion pieces for your friend to wear for their next blog post what would they be and why?
V: That's tough – if you ever have a chance to glimpse into Mel's closet then you'll understand. That girl has the wardrobe fitting of Beyonce! I'd have to say though, that some of Mel's current staples would definitely be a black choker, paired with a pair of black culottes!
M: The first would be a bright coloured statement blazer, mostly because it's out of our natural style and comfort zone and it would be fun to challenge her. The second would be an off-shoulder top, because I swear she has an off-shoulder top in every colour and style known to woman. It's like her go-to staple.
LC: What is the first item of clothing item that comes to mind when you think of your friend?
V: Definitely culottes.
M: Off-shoulder tops. Like I said, she's the Queen of Off-Shoulder Tops.
LC: If you had to choose a shoe style to represent your friends personality, what would it be and why?
V: Platform heels! Mainly because she loves them, but also because platform heels are so solid, and Mel has always been a solid person and friend to the core for me. What you see is what you get, and there's no facade from her. Plus she never hesitates to put her foot down when something doesn't sit well with her.
M: Lace up heels – like the Ghillie Ties. Vic is amazing at styling lace ups. Whether they're flats or heels, she always makes them look beautiful, wearable, and effortless (a lot like her style, in general).
LC: What current Snapchat filter would you select for each other's next Snapchat post?
V: Mel doesn't use a lot of snapchat filters, but she definitely incorporates Simba (her dog) into a lot of her stories! So if I could deviate, I'd say a filter that could modify her face into Simba's!
M: I know this sounds cheesy (I am a huge cheeseball after all), but it would be the filter where you open your mouth and a heart cloud blows out. She really has been such a kind, sweet, caring, and positive influence on my life. She's made me a better person and that's what being best friends is all about – lifting each other up.
Post on your own friendship story on social media using #NationalFriendshipDay to encourage others to join in the fun. Shop Mel and Victoria's looks here.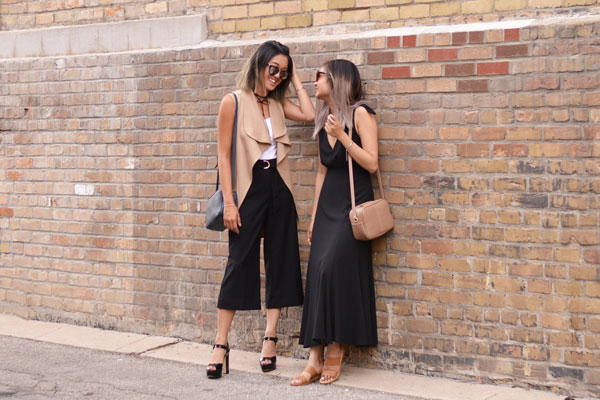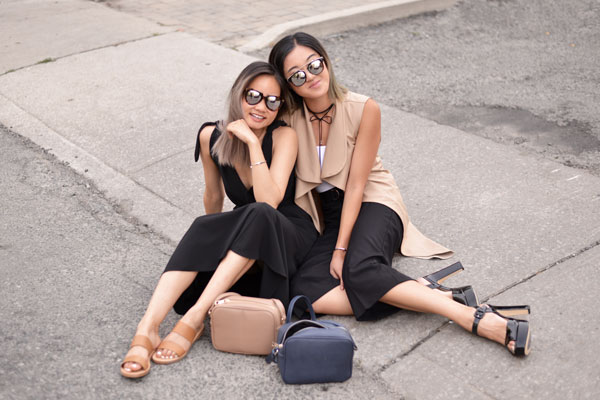 Special thanks to: Mel Hwang @melhwang & Victoria Hui @thelustlistt