A MOMENT WITH PARALYMPIAN PHILIPPE BÉDARD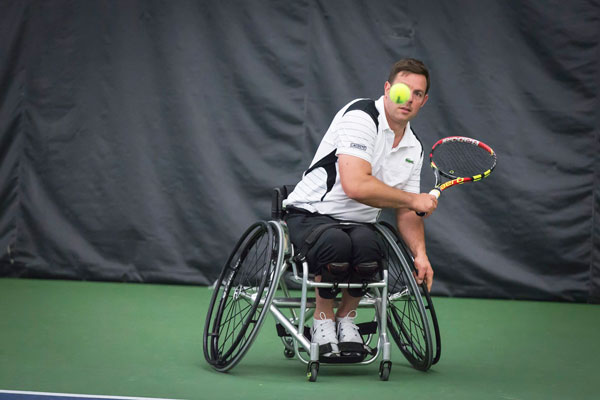 Currently preparing for the upcoming Rio 2016 Paralympic Games, Quebec-born wheelchair tennis champion Philippe Bédard is set to inspire us once again.
Bédard started playing wheelchair tennis in 2009 at age 27 and during his first time on the court, he knew immediately that he had found his passion. In 2015, Bédard captured Canada's historic wheelchair tennis medal alongside Joel Dembe, winning bronze in men's doubles at the Toronto 2015 Parapan Am Games. It was the first-ever medal for Canadians in wheelchair tennis at a major competition.
A participant at the Paralympic Games in London in 2012, reaching the second round, Philippe is now Ranked No. 43 in the world, already this year he's taken ITF titles in Puerto Rico, Niagara Falls, Ont. and Windsor, Ont.
LC: How did you start playing tennis?
PB: After moving to Ile des Soeurs close to 9 years ago, my girlfriend and I passed by a tennis club and she said to me, "Why don't you go see if they have wheelchair tennis there." So I followed her advice and the Director of the club arranged a practice time for me at the National Centre with a specialized coach, and the rest is history…
LC: Do you have a ritual that you do before you compete on the court?
PB: Yes, of course. Listening to music inspires me and puts me in a great mood.
LC: What do you feel is your most important career achievement so far? And what's next for you?
PB: My top three achievements are the two Paralympic Games I participated in, and my gold medal win at the Para-Pan Am Games in Toronto in 2015. My next goal is of course, Rio 2016, and to do the best I can there.
LC: What are you looking forward to most during Rio 2016?
PB: The opening ceremony.
LC: What inspires and motivates you in your daily life?
PB: People inspire me. People who want to change things and keep improving things, and people who live joy-filled lives.
LC: Plateau, Mile End or Old Montreal?
PB: Plateau.
LC: Apart from Montreal, what is your favourite city in Canada?
PB: Vancouver, by far.
LC: What article would we be surprised to know you are packing in your luggage for Rio?
PB: My kettle, my sencha tea from Camellia Sinensis, and my dark chocolate.
LC: What was the first website you visited this morning?
PB: LaPress.ca
LC: What is the last song you listened to on your iPhone?
PB: Temple of the dog by Hunger Strike.
Follow Philippe on Facebook and join us in cheering for him in Rio 2016 this summer!