A MOMENT WITH SINGER/SONGWRITER ROYAL WOOD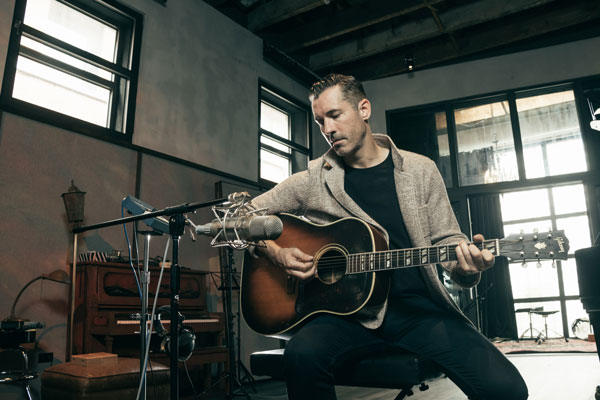 We were thrilled recently to spend some time with Royal Wood, a homegrown, Juno-nominated talent whose singing and songwriting talents are making him a household name in Canada and abroad. We caught up with him while he was recording a new song with the well-known Quebec producer Pierre Marchand at his studio here in Montreal. 
As a huge fan of his, we took the opportunity to ask him a few of our most pressing questions:
LC: What song or artist do you listen to most these days?
RW: Michael Kiwanuka
LC: Complete this sentence: The moment before I'm about to step on stage I….
RW: … have my band and crew stand in a circle, everyone puts their hands in, and we make sure to look each other in the eye. That way I can be sure that we start the show connected and with passion.
LC: Favourite artist of all time?
RW: That is very difficult to answer, but I guess I'd have to say The Beatles.
LC: Favourite place in Montreal?
RW: Mount Royal. Because it is named after me.
LC: What inspires you in your everyday life?
RW: To progress as an artist and as a human. Every day I strive to be a better friend, lover, son, brother, Uncle, etc. If we are not progressing, then we are missing out on the purpose of life.
LC: What is the #1 thing on your bucket list?
RW: To get my pilots licence and land a plane on my country property. Just like my Dad used to do when I was a kid.
LC: How would you describe your style, on stage and off stage?
RW: My style is certainly well defined at this point. I love the way North America dressed in the old 50s movies. From the way they combed their hair, to the well made clothes. So I'd say it's a mix and mashup of old with the new. On stage I always dress up with a tie, and then wear either a vest or suit jacket. Off stage I love wearing dress shoes with jeans, and either a short or long sleeved crisp clean ironed dress shirt.
Read more about Royal and catch him live on this latest tour.  Shop Royal's looks here.