BEHIND THE SCENES: FALL 2016 CAMPAIGN – PART 4
Have you ever wondered what happens behind the scenes at a high end photo shoot? It may surprise you to hear that in order to capture all that beauty and excitement on camera, there is a ton of prep work required. Behind the lens at our Fall 2016 Campaign shoot was the epitome of that. Think a crew of ten+ people at multiple locations (including one in an STM Metro car), two vans, 3 cars, and 16 venti iced coffees all jammed into one busy day.
Want to hear more? Here's a step-by-step rundown of how it call came together: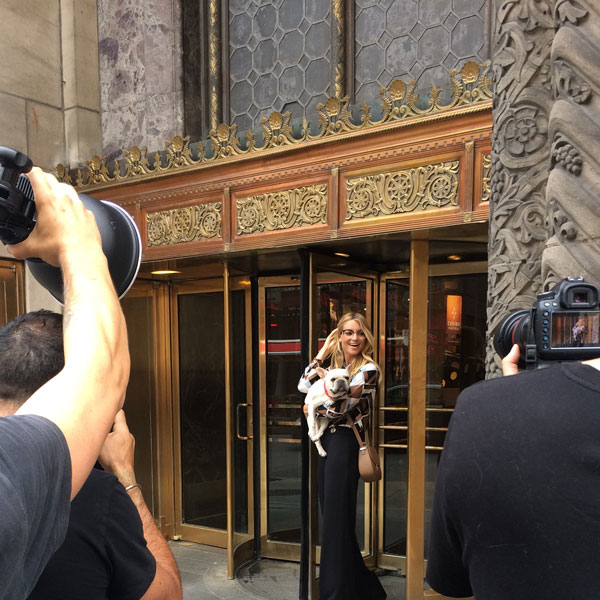 First to arrive on set at the first location were the producer, the tech and lighting guys and then the photographer. The Photographer for this campaign was the well-known Montréal-based photographer Max Abadian (lucky us!).
Lighting is then set up and the hair and make-up team arrives. For this shoot, we used beauty guru Leslie Ann Thomson who we are sure had no trouble getting model Elyse Taylor camera ready.
The on-set videographer then arrives, just in time to capture some behind the scenes footage of Leslie Ann in action.
Then the stylists, creative directors and the rest of the LE CHÂTEAU team arrive and started prepping the looks and approving hair and make-up.
And last, not but least, the real "star" of the shoot arrives (Sarah, the dog and her owner).
At this point everyone stopped for a well-deserved coffee break (you would be shocked about how much coffee is consumed on set) and the team also noshed on classic Montréal eats including smoked salmon, bagels, croissants, etc.
After this, the model was refreshed and ready to show her talents on set and getting "the shot" at this location, the team jams into the cars and vans and heads to the next location.
At each spot, props like bikes, plants, and apples were brought on set ahead of time but some others that you see in the campaign were spontaneous.
This process is repeated multiple times (with a few changes in the car!) until the shot list is finally complete.
At the end of it all the team gathered around for a round of applause and a a cheer of "That's a wrap!" before rushing some of the staff and the model to the Montréal airport to catch their flights.
It's a lot of hard work, but obviously everyone has fun and for the photos we get at the end, it's all worth it.
Shop the looks from this photoshoot now.
Want to see more behind-the-scenes coverage of this shoot? Continue to follow the blog and read these previous posts:
PROFILE: LE CHÂTEAU OF MONTRÉAL'S CAMPAIGN MODEL ELYSE TAYLOR