CELEBRATE: HOST A SUNDAY SPRING BRUNCH
The long weekend ahead of us means extra quality time with our friends and family. One of our favourite things to do over the long weekend is host a Sunday spring brunch. From planning a spring-inspired menu to setting up a festive table, the list can get pretty overwhelming. We've teamed up with Joëlle, of La Petite Noob, to share some tips for hosting a spring Sunday brunch with ease – and in style.
1. Plan out your menu

As courageous as you may feel, choosing to make that baked Alaska recipe you've seen on Pinterest the night before may be a little too adventurous. Take time to pre-plan your spring menu, including an ingredients list and preparation times.
2. Fresh flowers – always

Nothing says "spring" more than freshly cut flowers. Head to your local farmer's market and choose a bundle of pretty florals (or five!) to decorate your Sunday brunch with.
And no, you can never have too many flowers!
3. Schedule some "me time"

No matter how many things you have on your to-do list, schedule some "me time" to unwind before the party. These routine things – doing your hair, doing your makeup, choosing your perfect outfit – will make you feel good and less stressed before your party.
4. Go festive with your colour scheme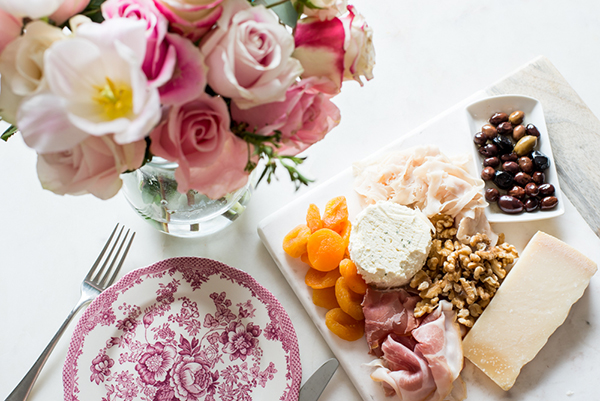 To keep your spring brunch table from looking too over-the-top with holiday trinkets, go for a pastel colour scheme with florals, decorative plates, and lush food options. Bonus points: offer your guests an amuse-bouche platter with olives, apricots, nuts, and a selection of fine cheeses to start.
Remember that no matter what you plan to do this weekend, it's really all about those special moments with your loved ones. Wishing you all a wonderful long weekend!
Need some style inspiration for the long weekend? Check out Joëlle's spring-inspired outfit ideas here.
———————————————————————————————————————–
Want the latest in LE CHÂTEAU fashion? Sign up to the LE CHÂTEAU email list for 15% off your first order.