LE CHÂTEAU CITY GUIDE: TORONTO X VICTORIA HUI
All throughout June, we are celebrating Canada's 150th with our LE CHÂTEAU City Guide. So far we have shared some of the must-see spots in Montreal and Calgary. Our next stop is… Toronto. Victoria Hui of the Toronto-based lifestyle blog, The Lust Listt, reveals her favourite places to visit in the bustling city she currently calls home.

1. Name a hidden gem within your city.
Victoria Hui: Pho Rua Vang Golden Turtle Restaurant – I'm there literally every weekend, and it tastes like home (Ottawa). It's more or less my escape back to good home cooking whenever I'm craving food that my mom used to make for me when I lived in Ottawa.
I also highly recommend Kitten and the Bear for delicious scones, jam, and afternoon tea!

2. If you were to provide a daily travel schedule for city newcomers, what places would it include and why?
VH: Obviously Golden Turtle to try some of the best pho in Toronto! I would also recommend that they check out Kensington Market, Ossington, and Queen West for some fun shopping, but also amazing places to experience Toronto culture. I'd highly recommend popping into Colette for brunch because true Torontonians brunch on weekends and their food is amazing. Obviously I'm a coffee addict, so I would also recommend that they visit places like NEO, Run & Gun, as well as Safehouse for amazing coffee.
3. Where is the ultimate spot to take a photo for a social media post?
VH: Oh, this is hard. I have a lot of favourite places, but probably my #1 spot would be the townhouses across from Trinity Bellwoods on Queen West (I think it's around Queen & Strachan). But I also love the loft homes in Yorkville as well.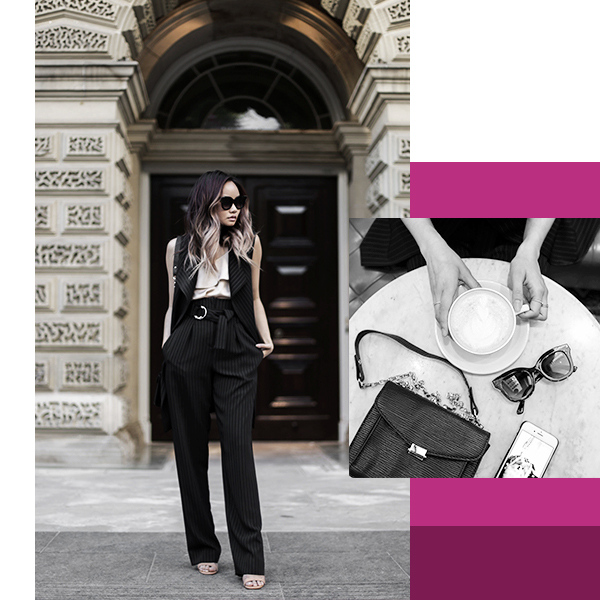 4. Where do you find style inspiration within your city?
VH: I'm mostly inspired by the beautiful architecture and the people. As cliché as it sounds, I love to people watch!
5. What is the most buzz-worthy new hot spot?
VH: Not necessarily new at the moment since they opened up a couple months back, but Ufficio!
6. Name the most unique location for date night within your city.
VH: If you can get rooftop access somewhere to admire the city lights in privacy. That's my absolute favourite thing to do!
7. What does being Canadian mean to you?
VH: To me, being Canadian means saying sorry a lot! I'm dead serious. I say it at least once a day. But it also means always lending out a helping hand when someone needs it, and always being there to set aside your time for others. We're such a big mix of different cultures and races, and we all came here for the same reason – to build a life for ourselves. I find that Canadians are always humble regardless of where they came from, and what their current situation is, which is what makes me proud to say that I'm from Canada. We are always there for each other, and others, as well.
Shop Victoria's look: top, sandals, bucket bag, crossbody bag, vest, high-waisted pants, ruffled tank
Thank you to Victoria Hui for sharing her must-see recommendations in Toronto. Be sure to find her on Instagram, Facebook, and Twitter. Come back soon to see which city we will be in next.