MOTHER'S DAY: ANGIE
To the women who have been our cheerleaders from day one, who have shown us what it means to be strong and independent, and who were our first fashion icons (thanks for letting us raid your closets!) – Thank you for everything. We love you, moms.
Today we share some of LE CHÂTEAU's own (super)moms. Design boss lady Angie reveals what she loves most about being a new mother.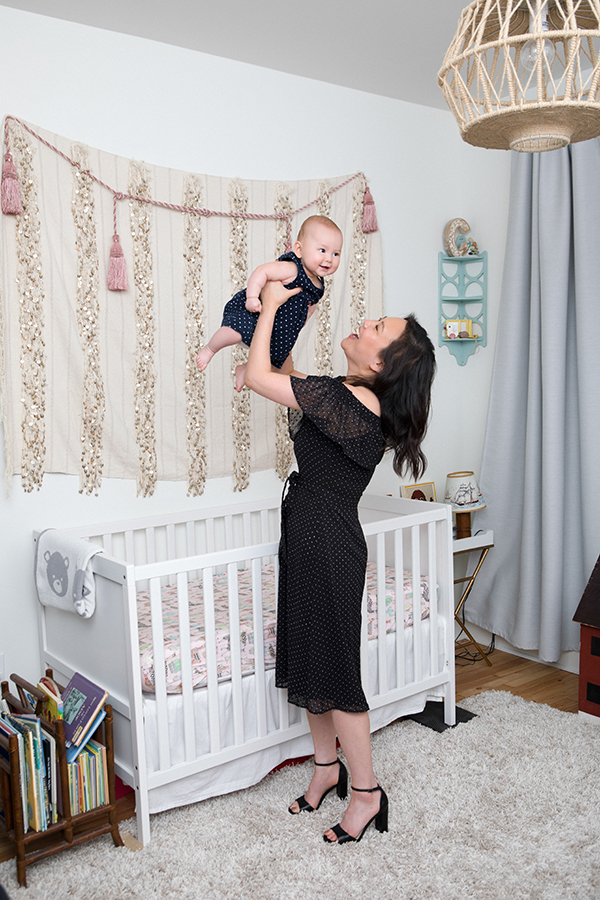 1. Describe what you love most about being a mom.
What I love most is making Clémentine smile and laugh. Whether it be when I am comforting her with a song with my "ok-at-best" singing voice or making her laugh with my "not-so-funny" jokes, it's worth it every time. I also love being able to watch her develop her personality. I find with every day that passes, she surprises me with something new and it is honestly pretty amazing to be a part of.
2. Choose what best describes you. I have raised:
– A Leader
– A Feminist
– A Politician
– An Environmentalist
– An Innovator
– An Independent Individual
– A Comedian
– A Selfless Individual
– A Fashionista
I am working to raise an independent AND selfless individual. I believe that these values need to be developed together because I see strength in a person who is driven to achieve her own individual goals, while at the same time believes in making the lives of others better. I would love for Clémentine to grow to have these beliefs as well.
3. 1 piece in your child's wardrobe you wish you had in adult size?
Not so surprisingly, it's not just one piece but her whole wardrobe of dresses that is already suspiciously similar to mine 😉
4. Is there anything you learnt from your mother that you have applied to your parenting?
My mother has always given me unconditional love. There has never been a moment in my life that I have felt that my mother was not on my side, even in times when she hasn't necessarily agreed with me. I hope that as Clémentine grows I can be that for her, where we can be open with one another and know that we will always love and be there for each other.