MOTHER'S DAY: ANN
To the women who have been our cheerleaders from day one, who have shown us what it means to be strong and independent, and who were our first fashion icons (thanks for letting us raid your closets!) – Thank you for everything. We love you, moms.
Today we share some of LE CHÂTEAU's own (super)moms. Accounting whiz Ann tells us what her favourite moments of being a mother and grandmother are.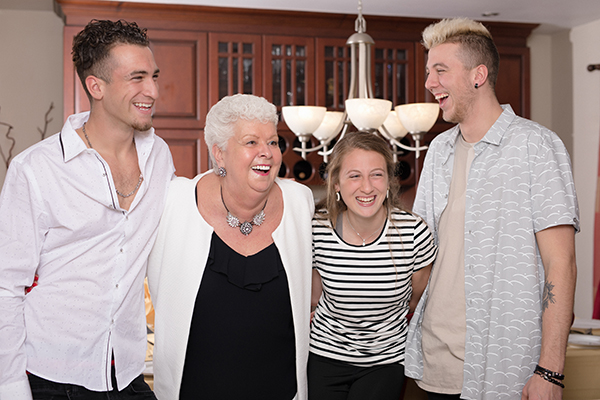 1. Describe what you love most about being a mom/grandmother.
Being a grandmother has to be the greatest role. What I share with my grandchildren is so much different than the role of mother. I share with them lessons of past experiences and try to teach them a little about what life is all about ahead of them. I have a very close relationship with all three of my grandchildren, and to watch them grow and bloom into adults is the most gratifying. They in turn keep me forever young.
2. What is your favourite "me time" activity?
Spa day!
3. Tell us what the hardest adjustment to being a mom was.
I think the hardest part of becoming a mother for me was a total life changing experience that I had no practice in. Am I feeding him right? Am I too strict? With each passing stage there were questions of whether I was doing things right.
4. Choose what best describes you. I have raised:
– A Leader
– A Feminist
– A Politician
– An Environmentalist
– An Innovator
– An Independent Individual
– A Comedian
– A Selfless Individual
– A Fashionista
My goal at raising my son was to have him grow up with integrity, to be loving and compassionate, and to be the best possible husband and father. With great pride I can tell you that he became everything that I worked and prayed for.
5. How has your style evolved since becoming a mother/grandmother?
I think my style has evolved since becoming a grandmother. When you have young adults around you (2 boys and 1 girl), they show me what is new and trendy. They will say, "Hey grandma, try that on. It will look amazing on you" and 9 times out of 10 it does.
6. What is your best advice to new moms?
My best advice to new moms out there is to enjoy every single moment, even the hard times, because before you can blink an eye they have grown.
7. Best style advice to your grandchildren?
My fashion advice to my grandchildren, especially to my granddaughter, is to take pride in what they are wearing and to be fun, trendy, and classy.
8. Is there anything you learnt from your mother that you have applied to your parenting?
From my mother I learned traditions that were passed down from her mom. I passed them down to my son and they have now been passed down to his family.
9. Vice you'll never give up, even as a mom and grandmother?
I have never given up having a glass of wine and dancing.
10. What are your plans for Mother's Day?
This Mother's Day will be a surprise as it has been every year for the past 24 years. I have been blessed with a daughter-in-law who makes this day so very special for both her mom and I. She will send us clues every day for a week and we will try and guess what she has planned for us.