MOTHER'S DAY: MARLENE
To the women who have been our cheerleaders from day one, who have shown us what it means to be strong and independent, and who were our first fashion icons (thanks for letting us raid your closets!) – Thank you for everything. We love you, moms.
Today we share some of the (super)moms who inspire us. PR powerhouse Marlene lets us know what she cherishes most about being a mom of three.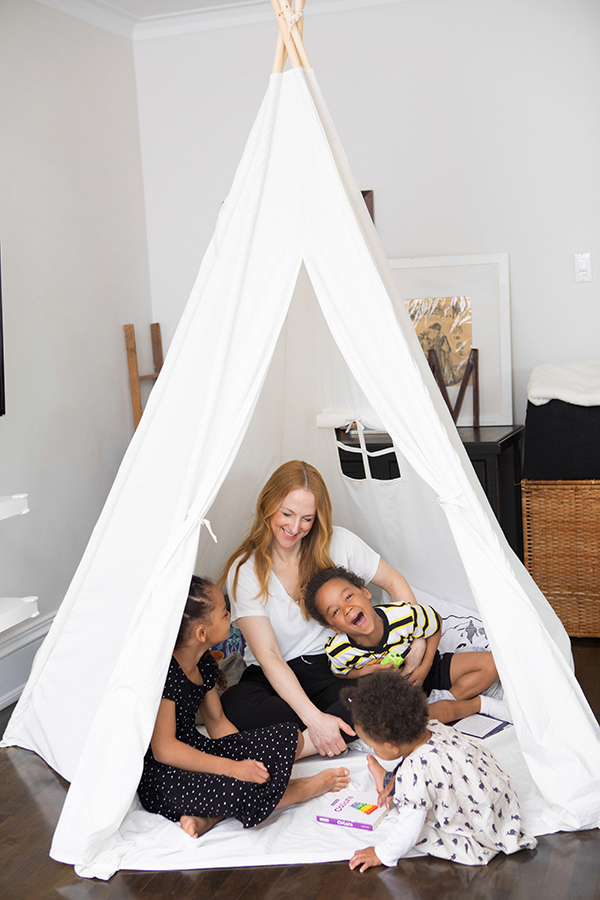 1. Describe what you love most about being a mom.
Absolutely everything! For me, motherhood has been the most rewarding privilege that life could have blessed me with.
2. Tell us what has been the hardest adjustment to being a mom.
Definitely lack of sleep. I am a solid eight hours per night person, so having to adapt to less than two or three hours, especially with a newborn baby, was really hard for me.
3. What is your favorite "me time" activity?
Hot yoga. The focus required to perfect the poses really clears my mind and the heat is both nurturing and cleansing. It's the ultimate anecdote to the stress of a busy life.
4. Vice you'll never give up, even as a mom?
I've actually developed a new vice since becoming a mother: Netflix. Whether it's while I'm doing my make-up or cooking dinner for the kids, I love to sneak in mini-binges of all my favourite shows.
5. Everything is a mess. Tell us your messy-moment mantra.
I try to keep in mind that my kids won't remember how clean our house was growing up. What they will remember are the moments I took to spend with them. However, seeing as our house is mostly white and I like an uncluttered space, sometimes I create fun cleaning activities we can all do together. Most of the time it turns out to be a win-win for everyone, but other times I'm left with a bigger mess than I started with.
6. How has your style evolved since becoming a mother?
I don't know if my style has evolved but I've certainly had to simplify my routine in the morning. I guess this translates into more streamlined and practical wardrobe choices. I tend to invest in well-made pieces that I know will look professional no matter what my day looks like.

7. Best style advice you'll share with your kids?
Dress for yourself, and no one else.
8. What is your best advice to new moms?
My advice would be to just accept motherhood for what it is: often challenging, but always amazing in its own special way. I would also tell any new mother to try and enjoy each and every messy, loud, busy minute, because even though the days may feel long, the years will pass by quickly. I believe every moment with your children is truly a gift.
9. Is there anything you learnt from your mother that you have applied to your parenting?
My mother is an amazing person and an inspiration to me, so yes. She has taught me to parent with kindness and respect, and to give my kids the space they need to become who they are meant to be, not who I want them to be.
10. What are your plans for Mother's Day?
I normally leave that up to my husband and kids, and it is always a surprise. Whether it's a fancy brunch or a few extra indulgent minutes of snuggling together in our bed on Sunday morning, I'm just happy to be surrounded by people I love, and to be given a few extra hugs and kisses that day.