MOTHER'S DAY: MOMS WHO INSPIRE US
With Mother's Day this weekend, we continue to celebrate the amazing moms around us. Today we chat with bloggers Chloe Dumont and Christina Loewen to learn more about their journeys through motherhood, all while doing it in style.
Q1. Describe what you love most about being a mom.

Chloe Dumont: Firstly, I have still not fully realized that I am a mother. It's incredible, even after 6 and a half months, I still have not realized that we have created and gave birth to this little wonder. What I love the most in my role as a mother, it's to see her grow, evolve. I am discovering her just the same as she is discovering life. She is very curious and is becoming more and more independent. I love to watch her be amazed by everything that she sees. It's beautiful to see and she truly impresses me every day. It's impossible to know what to expect before living through it; there is something new every day and there is literally nothing more beautiful.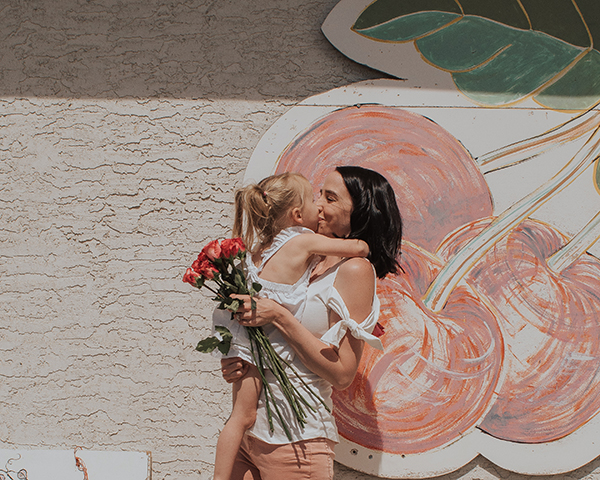 Christina Loewen: What I love most about being a mom is the unconditional love. I never knew that I was capable of love like this until I had kids. They mean the world to me and I mean the world to them.
Q2. Tell us what has been / what the hardest adjustment to being a mom was (ex: lack of sleep!)
CD: The beginning had been very difficult for me. When we had arrived to the house and we were now a family, I was always breastfeeding; I would only shower every 2-3 days, I was not taking care of myself anymore, I was always in pajamas, I had dark circles under my eyes, and my biggest challenge was finding myself again as a woman now. It's in moments like this that you realize how much taking time for yourself is important. I had the impression that I was going through post-partum depression and I had to find myself again. I took some time for me, and thanks to my fiancé, I had been able to find myself again as a woman.
CL: The hardest adjustment that I faced when becoming a mom was the lack of freedom. When you become a parent, suddenly your world revolves solely around your child. It is beautiful but it is also tough to give up your own personal needs and put your dreams for yourself on the back burner.
Q3. What is your favorite 'me time' activity?
CD: Simple activities such as going out to get a coffee or taking a bath alone (because often Abigaëlle is with me in the bath!) or watching a series on Netflix. I do not really have a favourite activity, but I take the time to do the things I did before Abigaëlle was with us!
CL: My favourite me time activity is writing! I enjoy writing fictional stories and poetry. It's a wonderful way to channel my negative energy into something positive.
Q4. I am working to raise:
CD: An independent individual
CL: An environmentalist. Teaching our children to love and respect nature could one day save the planet.
Q5. Everything is a mess. Tell us your messy-moment mantra:
CD: In the beginning, I was going crazy. In addition to everything that I was doing as a new mother (breastfeeding, changing diapers, etc.), I had the impression that I couldn't stop and always had to pick everything up. In the last few weeks, I've become more relaxed and have been letting things go. I've accepted that Pinterest-looking homes are not possible with children and you need to accept that, if not, you'll go crazy. I now came to peace with my new reality and I do not worry about it anymore. That's #reallife after all!
Q6. How has your style evolved since becoming a mother?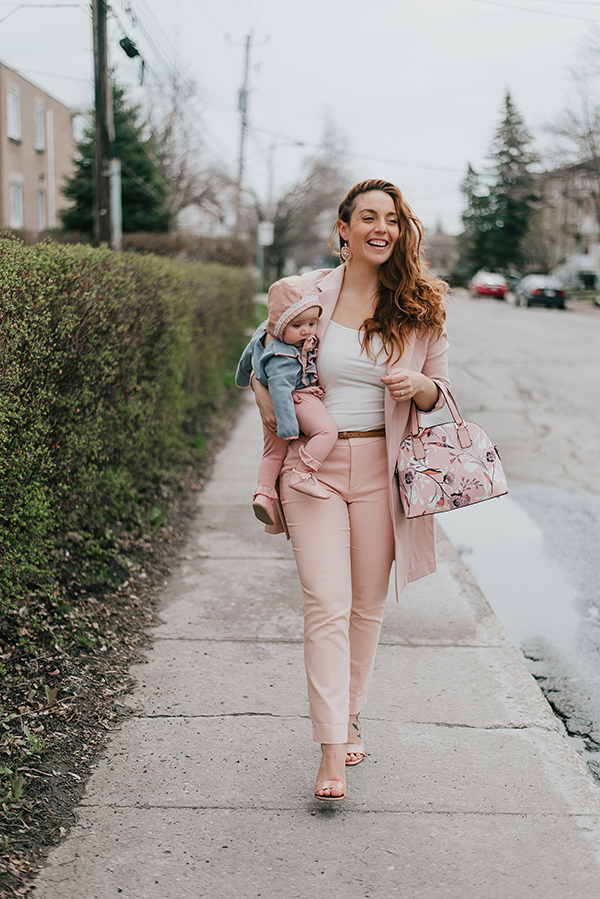 CD: When Abigaëlle was born, I was in casual mode, which had never really been my case. I was always in pajamas. When we were going out I used to put on a shirt and jeans. I was thinking about what was the most practical for breastfeeding, more so than how I was going to look. On the other hand, the older Abigaëlle gets, the more she has a certain independence, the more she looks like a little girl and not a baby, the more I have the impression of finding myself. I have now re-discovered the girl who was passionate about clothing, who loved getting dressed up, and who loved taking the time to think about her look each morning and that feels good! Now I am more of a "fashion mom". Haha!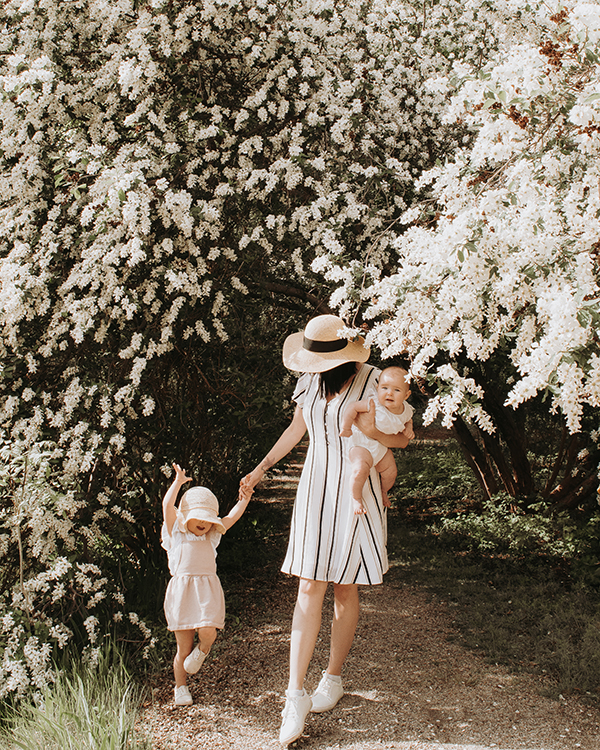 CL: My style has evolved in many ways since becoming a mom. The biggest way is in the practicality of my clothing. I am constantly chasing my toddler around while holding a baby so I need to be comfortable for endless play! Cute runners are a must!
Q7. What is your best advice to new moms?
CD: To have confidence in yourself! I think that's the best advice that we can give. When you become a new mom, you quickly receive tons of advice from here and there with social media and all of the messages that I was receiving, it drove me crazy. I sometimes thought that I was not doing the right things for my family and I questioned myself constantly, but in the end I realized that no one knows my daughter better than me and Dany. I also soon realized that you have to take things with a grain of salt, but above all, have confidence in yourself. Being a new mom is a lot of trial and error, but that's how you learn to discover yourself as a new parent.
CL: My best advice to new moms is to go with your instinct. You know what is best for your kids and listening to judgement from others will only drive you mad. Accept that you will be judged no matter what you do but understand that you know your kids best and every family is different.
Q8. What are your plans for Mother's Day?
CD: This will be my first Mother's day, which only happens once in a mom's life! I know that we are going to have a family brunch, but for the rest, I do not know if Dany has something special planned. To be continued…!
CL: My plan for Mother's Day is to hang out with my family and enjoy the sunshine! We love to walk around and pick wildflowers.
Q9: Is there anything you learned from your mother that you have applied to your parenting?
CL: My mother was always very sensitive to my emotions and would validate my feelings no matter how silly they were. I've learned that this is an amazing way to establish trust and understanding between you and your kids.
Q10. Vice you'll never give up, even as a mom.
CD: Definitely watching TV shows and movies! We love enjoying these little moments of just the two of us, sitting and relaxing in front of a movie or a series!
CL: One vice I'll never give up is chocolate. I have a wicked sweet tooth and am always trying to hide chocolate from my daughter.
Q11. Best style advice you'll share with your kid(s).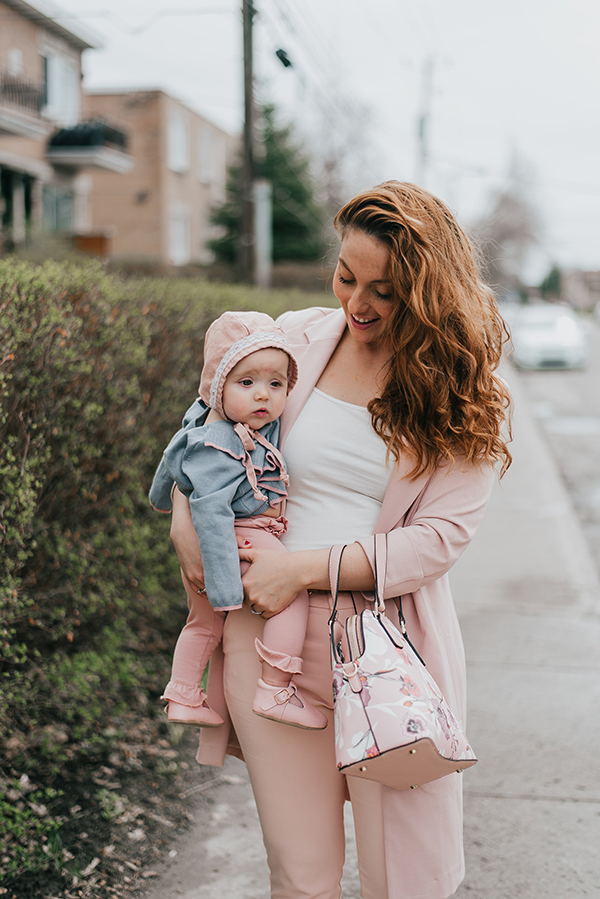 CD: Oh my goodness, there are so many things that I would like to pass on to her and tell her. But I think that my main advice would be "stay true to yourself". For me, authenticity is very important and I hope that despite comments from x people or x situation, she will always be able to remain herself and be proud of the person she is and will become!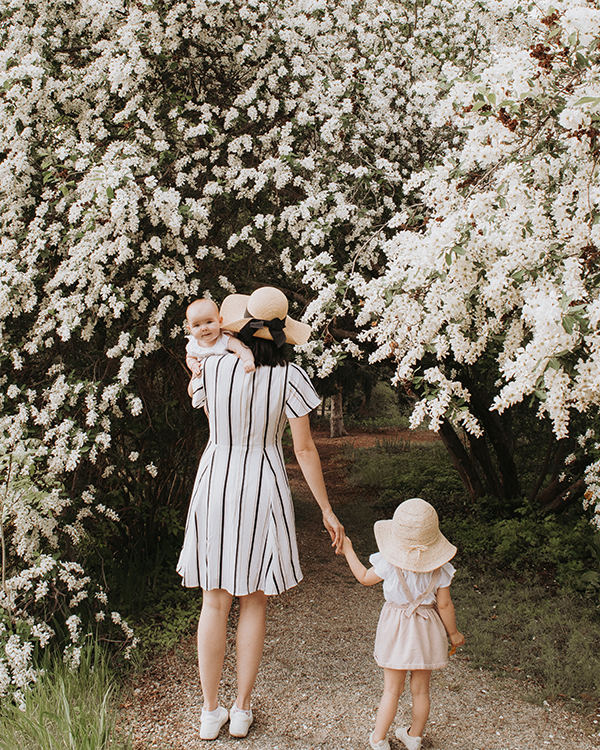 CL: My best style advice that I'll give my children is to wear whatever you want! Don't let the fear of what other people will think dictate how you dress.
Q12. 1 piece in your child's wardrobe you wish you had in adult size.
CD: Her whole wardrobe! Since she has been born, I love when our looks are #matchymatchy and I always try to find items that look alike because I truly find that all baby clothes are beautiful. The fashion for kids is incredible! But I admit that I have a weakness for onesies, they look so comfortable!
Be sure to read about our three LE CHÂTEAU moms who have continued to inspire us: Marlene, Ann, and Angie. Happy Mother's day, moms!