WEDDING BOUTIQUE: WEDDING FLORAL ARRANGEMENT
Take it from us, from scouting for the picture-perfect venue to picking dream worthy floral arrangements, not to mention, wearing the perfect wedding dress; every detail counts when planning for a wedding. That's why we recently collaborated with Montréal expert and florist, Laura Campanelli of Atelier Flora to get her insider info on floral arrangements to pick for the special day. With endless options of flowers to pick from (we know it can be overwhelming, so do not fret), We're here to help brides-to be with an exclusive guide as Laura creates a one of a kind flower bouquet for this wedding season.
Step 1:
Start with freshly cut flowers and greens for your arrangements. Then, begin with adding your water to a vase or oasis brick (sponge that absorbs water for your flowers to drink).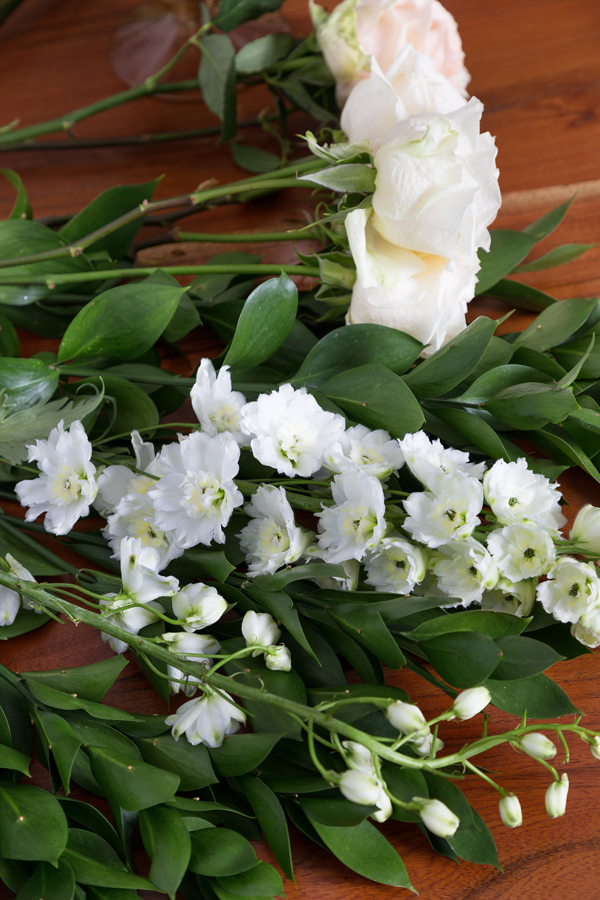 Step 2:
Create a base of greens, always working in increments of sets of 3 stems.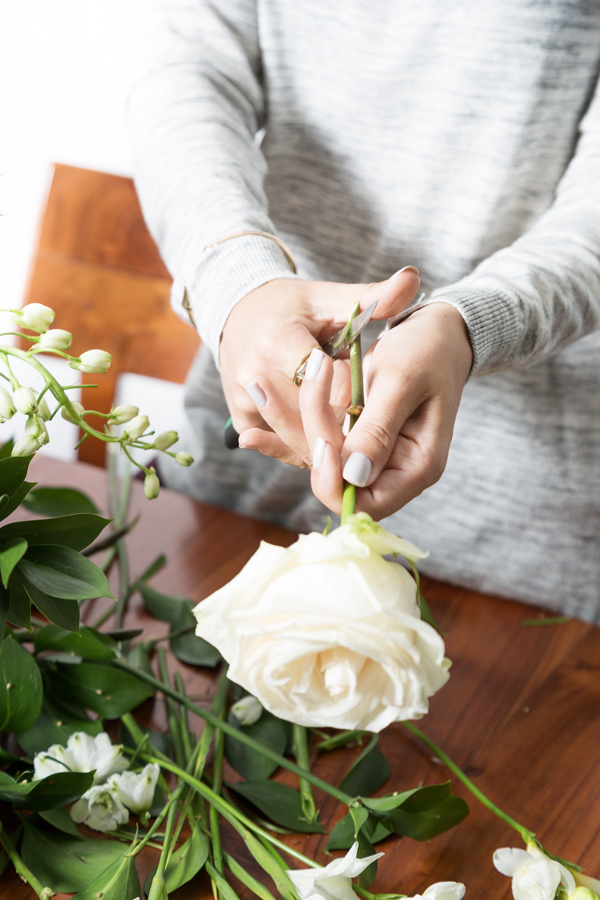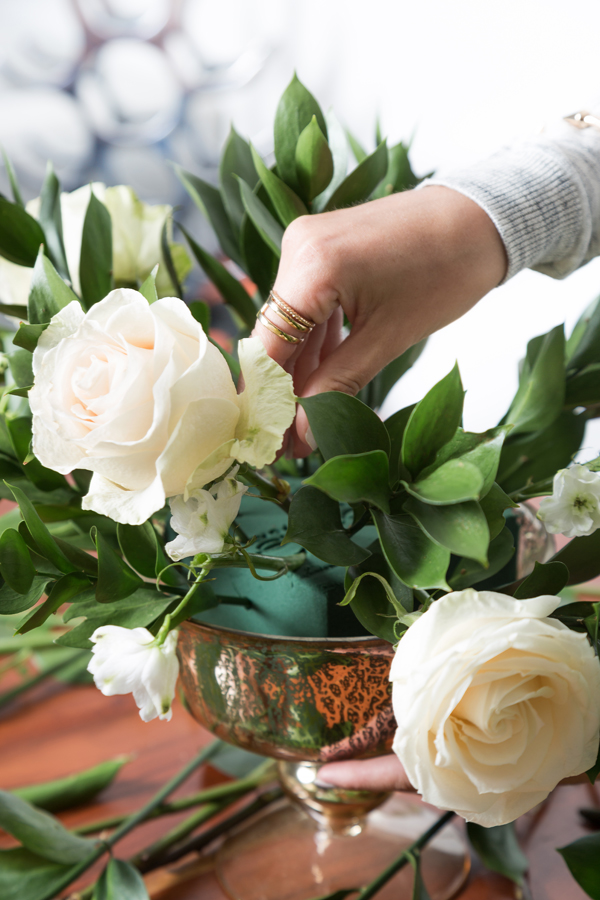 Step 3:
Next add in your focal flower of choice for your arrangement (again in sets of 3 stems).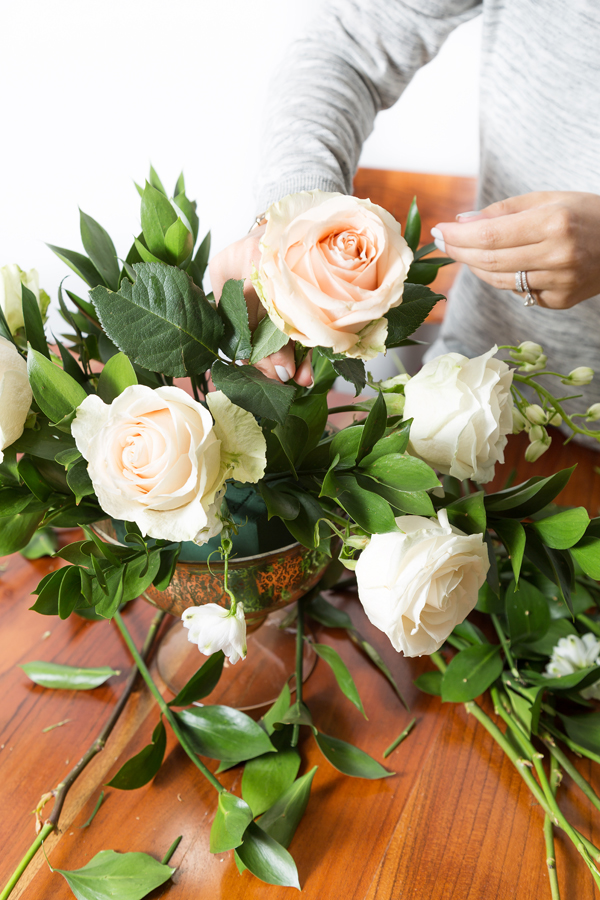 Step 4:
Choose a filler or accent flower to complement your focal flower and again add in sets of 3 stems.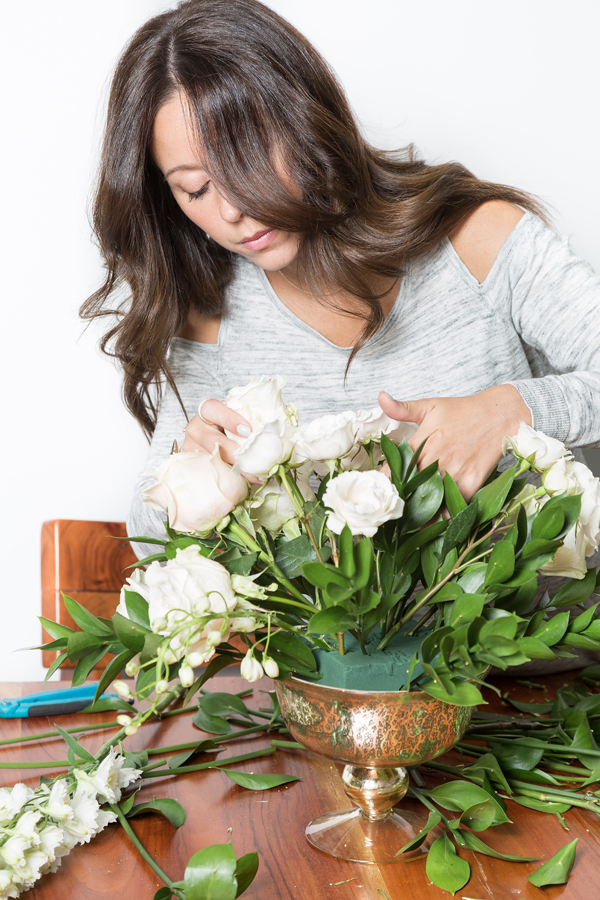 Step 5:
Finish up by adding in extra green in spots that may be missed!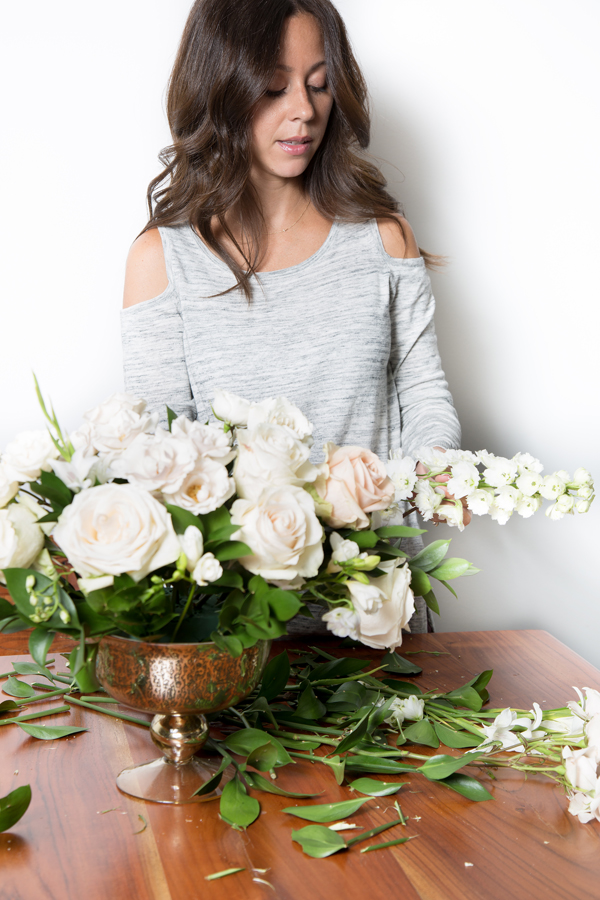 And to help out even more, we've asked Laura to share the answers to some of her most-asked questions.
What advice would you give brides who really know nothing about what flowers to select for their wedding?
My best advice would be to choose a look/vision for your florals and stick to it. With an open mind and good communication between yourself and your florist, any florist could help a Bride achieve the look they're going for. Sometimes things like seasons and budget could intimidate brides to think that they need to change their mind about colours, styles when the truth is, nature gives us many options.
What is the most "creative" bridal bouquet you have ever made?
In bridal florals, trends have gone from super constructed and classic to bouquets that simply look like a handful of blooms that casually fell together nicely! I'd say that in terms of the most "creative", the challenge there is achieving those natural and organic looking bouquets creatively- but still managing to ensure that the piece stays together securely and lasts the day.
What are the floral trends you are seeing now and that you think will be big in 2017?
As mentioned above, florals are moving from a very "arranged" look to more a more natural approach. I always work with the idea in mind that the flowers should like they've grown that way instead of been placed that way. The last few years, the recurring theme of "rustic" was everywhere in the wedding industry, including flowers and I think that we're evolving now from rustic to natural, also playing with bolder colours instead of the usual white and blush.
Besides the bouquet, what other floral arrangements do you think are must-haves at a wedding?
I always tell my clients that the flowers should be most important where they are important to you. If you put a lot of effort into your decor, change up your table linens, rent chargers and glassware, then your tables are important to you and you should add impact with a centerpiece. OR if your main focus is to wow your guests by the set up for you and your husband, then spend your dollars wisely and really decorate the table that you'll be sitting at. Aside from the bouquets, there's no must-haves, it's all a matter of personal choice.
How do you find your inspiration for bridal arrangements?
Pinterest always helps to get the juices flowing and inspires ideas for sure. I very much refer to fashion magazines or home decor for inspiration that is much more my style. However, I warn Brides to sometime beware of Pinterest; it has the tendency to be little unrealistic when it comes to florals (i.e. Flower crowns are beautiful, but they won't stay that beautiful all day in photos on a hot day!)
We were thrilled to meet with Laura and get an exclusive guide on her stunning flower creation for this wedding season. Atelier Flora creates beautiful flower bouquets and arrangements for weddings and special occasions, for more information about Atelier Flora's services, check out the website.