SHINE ON | ROXY EARLE HOLIDAY INTERVIEW
Whether you're travelling home for the holidays, heading to your office Christmas party, hosting friends or attending a New Year's Eve soirée, the Roxy Earle x LE CHÂTEAU Holiday Collection has something for everyone, and wants everyone to shine this season.
Roxy chats with us about her plans for the holidays, Lena Dunham, and her favourite pieces from her new collection.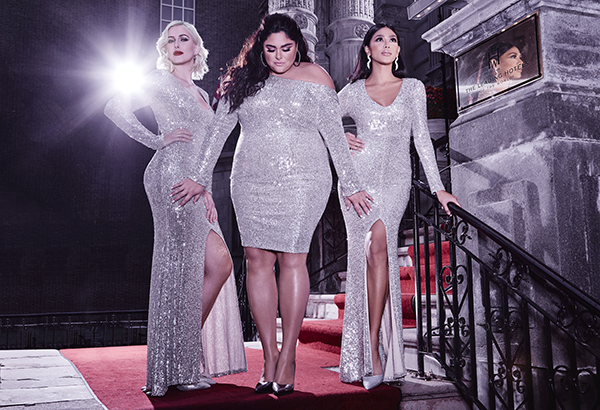 KEEP CALM & SPARKLE
"I'm especially excited about this new collection because I know how stressful the holidays can be for women of all sizes. But this season, I want every size to sparkle.
At this time of year, everyone seems to have these big expectations to transform themselves, somehow. I want people to let go and walk into these moments that are supposed to be joyful celebrations, knowing that they can shine.
To be honest, even now, with everything I do, I go through exactly the same anxiety. I know what it's like to deal with that insecurity. That's why my collection is so important. Beautiful clothes that fit well are key to feeling confident. Now, for the first time, I'm about to experience the holidays where I can actually zip my clothes up…and it's fantastic."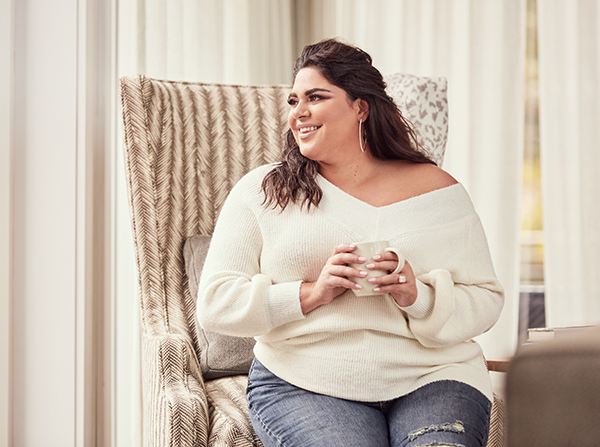 HOME FOR THE HOLIDAYS
"I celebrate the holidays in our home in the country with my husband and kids, my nieces and nephews, my parents, and our friends. Our country home is a gathering point, with lots of space to breathe. I just try to be present and relax with loved ones.
There are many cozy and chic pieces in this collection. My girlfriends and I love curling up in leggings, sparkly sweaters and socks, drinking wine and catching up. Curvy or not, we all want the same things. Comfy loungewear that is fashion-forward and special."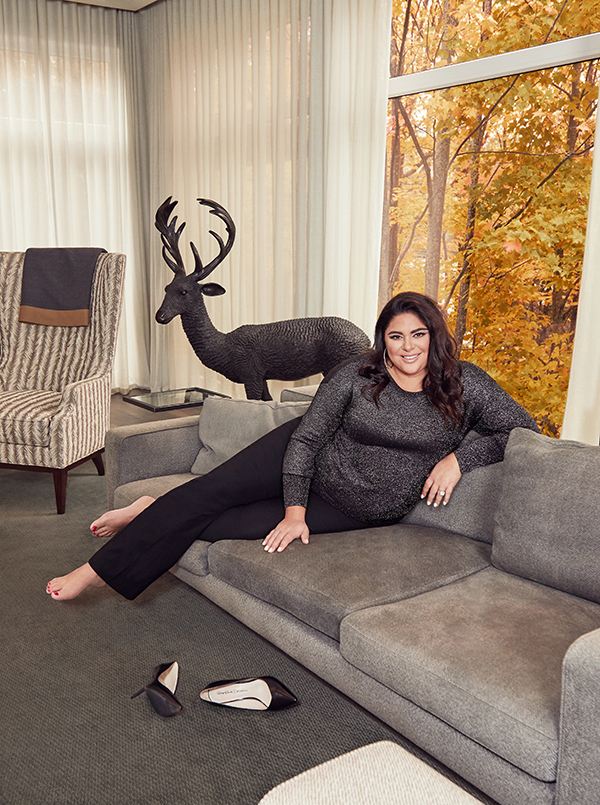 COZY DAYS, TWINKLING NIGHTS
"This season also brings many celebrations and special occasions. I know how hard it is to shop for occasion-wear. If I didn't have my own collection, I honestly don't know what I would wear to my upcoming holiday galas and red carpet events.
In November I have a major charity gala for Camp Oochigeas, who I am an ambassador for. I will be wearing the full-sequined black jumpsuit.
For New Year's Eve, we normally go away somewhere warm. If we decide to celebrate out, I will definitely be in the short, sparkly dress. I just love it! I also think the rainbow-sheen cocktail dress is a glam option for girls heading out for the night.
If we have a low-key evening, I will reach for the leather leggings with a sparkly sweater."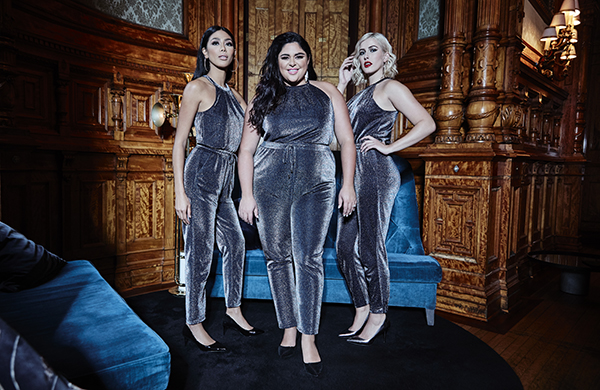 MINDFUL DESIGN, FOR EVERYONE
"This collection really encapsulates my lifestyle. There are luxurious fashion solutions for every moment of the holidays.
I love showing off a woman's waist. I have an hour-glass figure, but this collection wasn't made just for me. The wrap silhouettes will enhance a waist when it's there, but if you don't have one, flattering draping will sculpt one for you.
Women of any size can be conscious of length. I love a midi-length dress. It gives your hips room to breathe. We have designed dresses where, if they are a little bit shorter, the hemline drops at the back. A slightly longer length creates balance; it's sophisticated, but still sexy.
Balance is so important, as it captures what style truly is. If she's showing off her legs, then I have created cuts that cover up a little bit more at the top. Don't get me wrong, I love cleavage, curves and real bodies. This collection allows you to dress elegantly, but celebrate your shape.
I want women feel like they can show off a bit, celebrate themselves, their shape, their curves, with confidence. I know a lot of plus-sized girls reach for the same totally covered-up look. I want to encourage them to stop hiding and trust me to create pieces that you will look great in. It's time to embrace a little fabulousness in your wardrobe."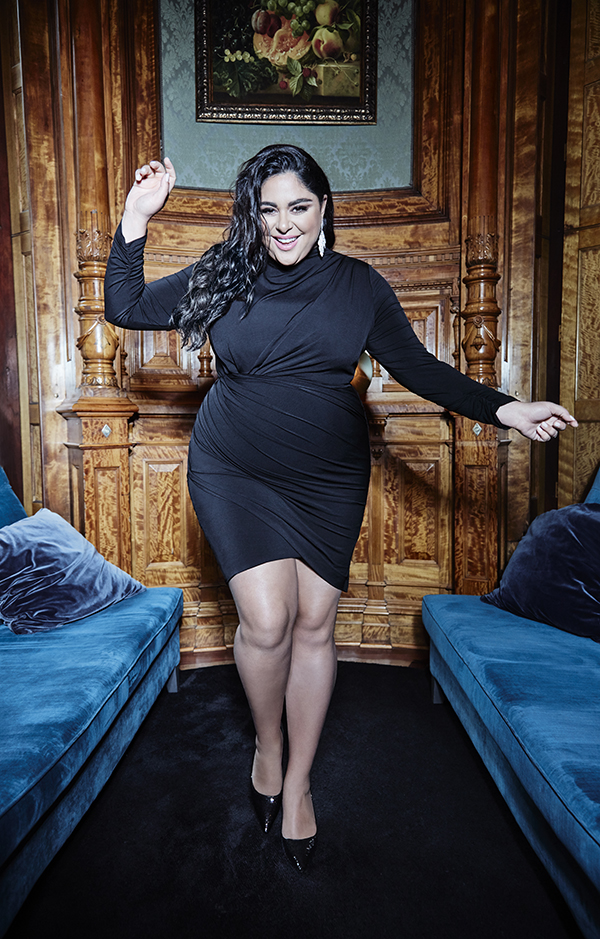 A FASHION MOMENT: LENA DUNHAM
"The last few weeks have been really cool for me, as a designer. I am a longtime admirer of Lena Dunham. She's an incredible actress, writer, and producer who stands up for diversity and inclusivity.
Lena was responding to a moment in time when fashion was really letting women down. The statement being made was so tone-deaf to what women are looking for in fashion right now.
It was so important for me to reach out to her and let her know that not everyone in the industry has tuned out. She loved the Roxy Earle X LE CHÂTEAU collection, really embraced the clothes and the message of empowerment behind them.
She saw what we are trying to do with these collaborative collections, and wanted to promote the brand for being truly reflective of what women want from fashion brands right now. So, she wore our dress on Jimmy Kimmel and promoted pieces on Instagram. It was a wonderful moment of recognition for me and LE CHÂTEAU.
I was thrilled that a woman who has access to any brand in the world chose Roxy Earle X LE CHÂTEAU because of the important statement we're making about body positivity, about empowerment, and the momentum growing around the #mysizerox movement. We're being heard…and, after a history of so much negativity, it feels really good."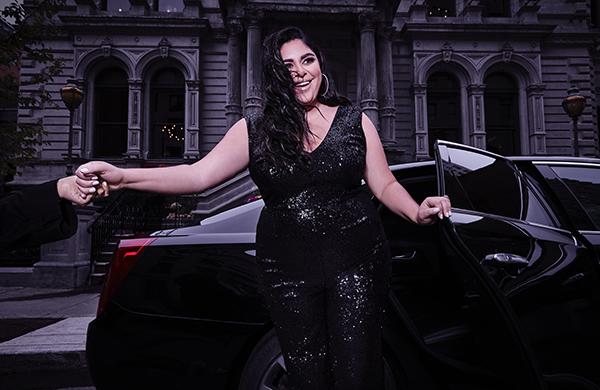 Shop the Roxy Earle X LE CHÂTEAU Holiday Collection here.