WEDDING BOUTIQUE : CHRISTINE CHO WEARS LE CHÂTEAU ON HER WEDDING DAY
When it comes to making things beautiful, Christine Cho is well versed in perfection. As a beauty expert, her eye for detail and excellent style has landed her in front of the Canadian media. You may recognize her from her appearances on The Marilyn Dennis Show or follow her eye-catching IG feed, but recently Christine partnered with us here at Le Château to try another role on for size, wedding dress designer!
In preparation for her destination dream wedding in Barbados, Christine designed a gorgeous one of a kind wedding dress in collaboration with the in-house design team here at Le Château. The result is a breathtakingly graceful yet thoroughly modern gown that would look just as perfect on the beach as it would in a cathedral. Although her dress is a one of a kind bespoke garment, you can get a similar gown inspired by Christine's design in our wedding boutique online and in stores now. But it doesn't end there, with a keen eye for style and detail, Christine also helped create the perfect wedding outfit change for the after party.
Recently we sat down with Christine to ask her about her wedding , the dress, and that all important outfit change.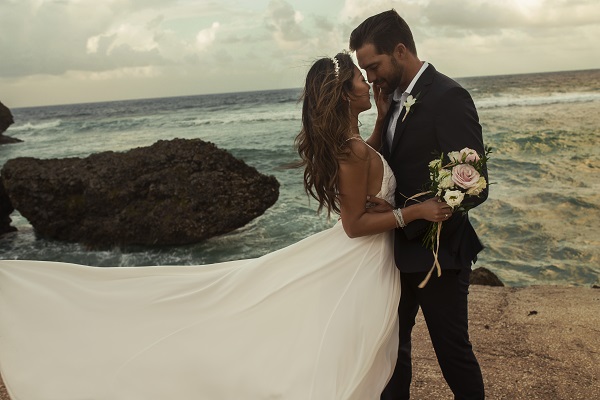 Tell us about your husband's proposal.
The proposal wasn't totally planned at the moment that it happened. Alex had had a previous plan that was foiled due to previous heavy rain. Since then, he had been carrying the ring in his pocket, waiting for the right moment. One beautiful day in Barbados, during early December 2018, Alex and I went to our favourite cliff overlooking the ocean. There's an old plant there with giant thick leaves where people carve their names; we had previously carved CHO into one of the leaves and went to see if it was still there. As it wasn't (the leaf must have fallen off over time), I asked Alex to carve my last name into the leaf again, and walked off to look at the ocean. He realized that it was a perfect opportunity, and carved: Will you marry me into the leaf. Before he could say anything, I ran back towards him and checked the leaf to see where my name was. I read: "will you marry me?" and told Alex, "hey look someone proposed here" and when I turned towards him he was on one knee with the ring. It was spontaneous, intimate, and perfect.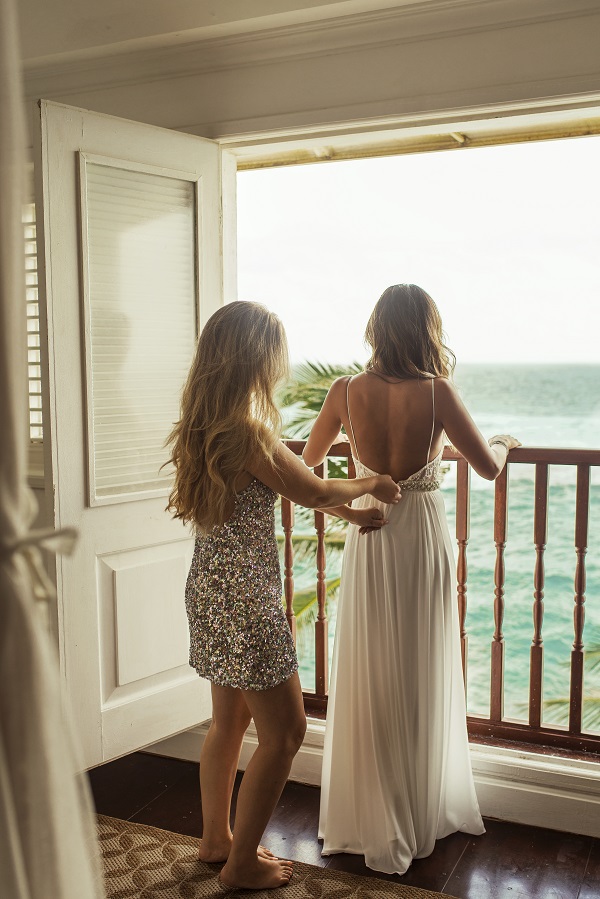 Was Barbados always on your dream destination list?
I had always dreamed of an island wedding of some kind. When Alex and I got engaged, we toyed with the idea of eloping in Hawaii. Since our families and friends really wanted to be there, we did a small legal ceremony in Toronto in June 2019, and then a wedding celebration in Barbados in December 2019. Barbados is where we first met, and we want to end up, so it was natural for us to have a wedding there. The island is also so naturally beautiful, that it isn't difficult to make wonderful memories.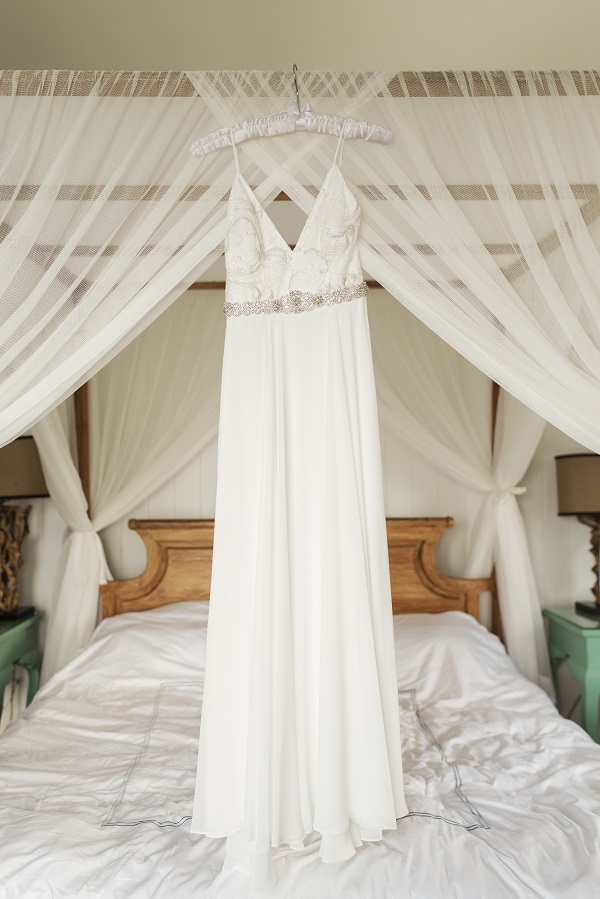 What as the inspiration behind your dress?
Inspiration for my wedding dress came from a few different places, including fashion and nature. I knew I wanted to skirt portion to move with the wind and look like water. Because of the hot weather in Barbados, I didn't want a dress that was heavy or uncomfortable in any way. I wanted to be able to move freely and have my skin feel the sun and breeze; this is why I opted for a low back sleeveless design during the day. The unique lace (which resembled waves and coral, fittingly) overlaid on top of delicate mesh made up for the perfect dainty bodice. The sparkly sash added a brilliance that elevated the style. The dress had the perfect balance of sheerness and movement, with a touch of glam.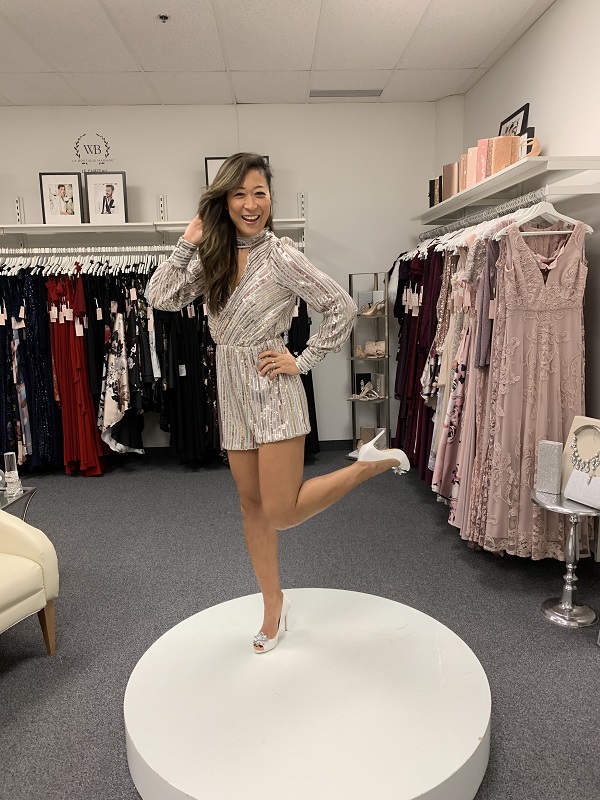 Why was an outfit change important for you?
An outfit change wasn't crucial, but I knew that something short would be easier to dance in, and Caribbean weddings involve lots of dancing and fun! I wanted to be comfortable but party ready. The sheer sequin romper was perfect – the long sleeves and high neck made it formal enough, but the short shorts and keyhole back made it super fun. I loved the satin sash tied into a bow as a finishing touch. I also can't wait to wear the romper again one day to another party!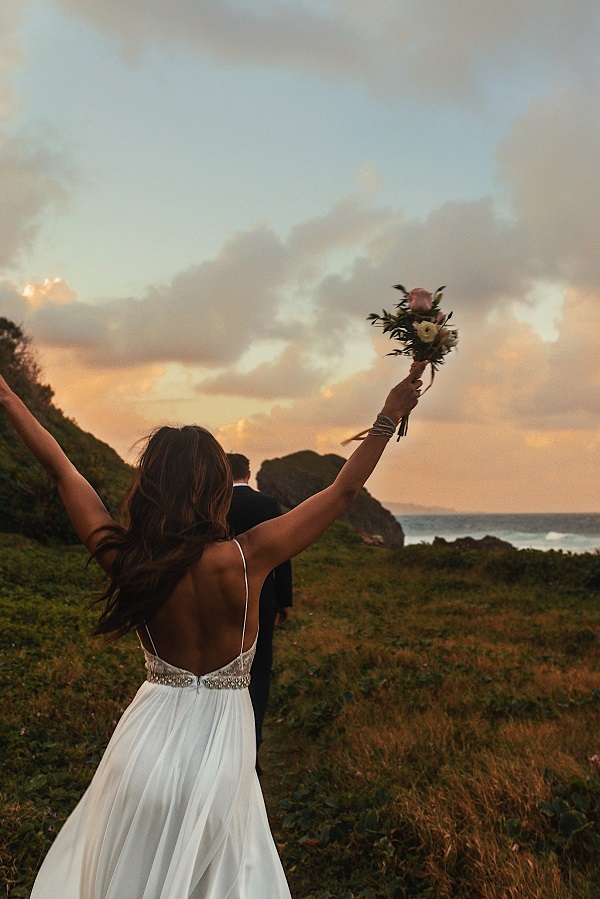 For you, what was the standout part of your wedding?
My favourite part of the wedding was walking towards my husband with the wild ocean and later afternoon sunlight behind him. I was grinning ear to ear and my heart was bursting with joy. I felt relaxed, excited, and in love. We were present and in the moment the whole ceremony with each other. I also loved the whole party – we had spiked snow cones and spiked fresh coconuts, a custom magnum bottle of Moët & Chandon with our names on it, and the most fun dancing and laughter – plus, we both took NO photos or vides on our own phones!
From a beautiful dream wedding, to a beautiful dream dress, we wish Christine all the happiness in the world going forward! Congratulations, and be sure to send us pictures of that amazing romper at another party!
Images by Emilie Hebert.